It just keeps getting better!  After what was two of the best days of the season on Monday and Tuesday, we're in for another bout of snow and FRIGID cold today and tomorrow.  Record breaking cold even.  I got a lot to talk about, so let's get to it.
Yesterday might have been the best day of the season thus far.  After the snow on Monday, there were some face shots to be had during the morning.  Even better was the fact that bluebird skies accompanied the fresh powder.  Check out this photo from Snowshoe yesterday morning.  You could easily mistake this for a photo from out west.
What a beautiful sight.  There's not a better feeling in the world than going to the White Room on a sunny day.  I didn't even realize this, but Snowshoe has seen a pretty good amount of snow in recent times.  Included in the email we received with this picture was the following…
It was an incredible President's Day Weekend at the mountain. A few quick  snow totals in case you can use:
8" overnight
26" last 5 days…
5 feet in the last 4 weeks!
Those are some pretty decent numbers.  Sixty inches in 4 weeks is really good actually.  It's allowed Snowshoe to get the entire mountain open as of today.  All 60 trails are open now.  Here are the comments on their snow report this morning…
It's that time of year! Tree Runs are Open, Shay's is open, Flying Eagle is open, We're 100% open.
Ahhh tree runs!  I love going into the woods and doing some glade riding.  The forecast between now and next Friday looks promising, so I'm hoping they'll still be open when I'm up there next weekend for the Ski Southeast Summit.  We're only 9 days away now!
One more note about Snowshoe…their Ridiculous Pass Sale is still ongoing.  The price has risen to $229 now and that price is locked in through February 26th.  Even after the 26th, it's still only $329.  That really is ridiculous.  There's not a better deal on a season pass in the region AND you get to use it for the rest of this season, which still has 6 weeks plus to go.  This is the third year they've done this and the demand is HUGE this year.  Their website and phones lines were bombarded the last few days based on comments on their Facebook page, so be patient when you try to order.
Getting back to the snow now…Winterplace was reporting 14″ yesterday morning.  While we don't have too many pics and videos from yesterday yet, they did post a couple of photos to their Facebook page.  Hopefully they'll have some quality video in their upcoming "This Week at Winterplace" video series.
Here's a cool shot from over in Virginia at Wintergreen.  They were reporting 8″ yesterday morning.
Finally, messageboard member davidski is currently up in West Virginia chasing snow for a few days.  He made it to Canaan Valley yesterday and posted some nice looking photos.  Here's one of them.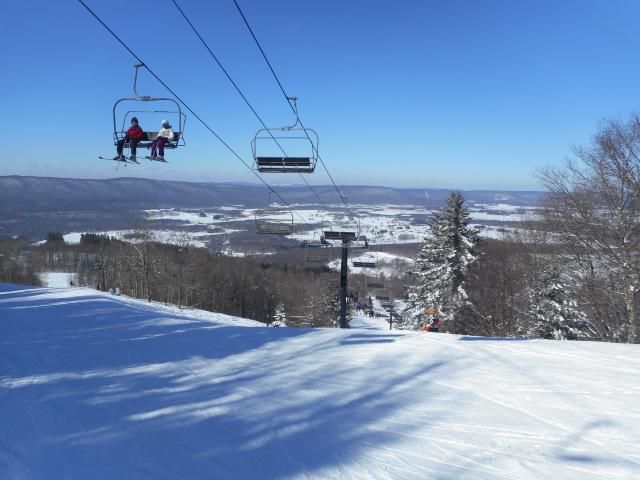 Make sure to follow his ongoing trip report over on the messageboard at the link below.  He always gets some quality photos and has some cool adventures.
https://www.skisoutheast.com/messageboard/viewtopic.php?f=116509&t=636131
More Cold and Snow?  Yes, Please.
As I mentioned at the beginning of this article, more snow and cold is coming our way today and tomorrow.  Let's start with the snow first.  An arctic front moves through today and will drop several more inches of snow.  Below is the latest NWS snow forecast over the next 36 hours.
It's a pretty decent little system.  Once again, it looks like everyone could see at least a little bit of snow with 4-8″ up in West Virginia, a few inches in Virginia, and several inches for the North Carolina ski areas.  This is all in the span of 24-36 hours too, so it'll be snowing pretty hard at times today.  There's even the possibility of thundersnow!  Paging Jim Cantore.  It should be fun to watch on the cams.
If you are planning on skiing or riding tomorrow and taking advantage of the fresh snow, be advised that it is going to be absolutely miserably cold.  A lot of records will be broken over the next day or two and this is easily going to be the coldest stretch of weather of the season.  Once that front moves through today, temperatures are going to plummet and tomorrow just looks brutal.  High temperatures tomorrow don't get above zero for several of the resorts.  Heck, the forecast for Snowshoe is negative 11!  They won't even get into the single digit negatives!  Good grief.
The lucky resorts will make it into the single digits.  Lucky is relative.  The wind is going to make it even worse.  Wind chills will be -30 to -50.  Just wow.  I'm expecting several resorts to cancel night sessions tonight due to the cold, wind, and snow.  I know Ober has already said they're closing the slopes at 7pm and I expect others to follow suit.  Nobody needs to be out in temperatures like that anyways.
It should be an exciting day.  Stay warm!