March has arrived!  Well, it actually started yesterday but today is the beginning of the first work week of the new month.  I couldn't be in a better mood after a FANTASTIC weekend up at Snowshoe in West Virginia.  The 2015 Ski Southeast Summit was pretty awesome and the conditions were easily the best I've ever had for a trip up there.  There was so much snow!
I've already gone over Friday and Mike went over Saturday's conditions, but I think the coolest part of riding might have been yesterday morning for First Tracks.  Mike already posted a picture on the front page it looks like and you can see that it was snowing.  Fairly hard at times as well.  I thought this sign was pretty cool to see when we walked up.
The grooming was fan-freaking-tastic and everyone had a good time.  The stoke was high (Yeah I said it)!  The 20 or so of us were able to hot lap the Soaring Eagle lift for half an hour and I personally was able to get in 5 runs in that timespan.  Camp 99 was especially sweet.  The snow and grooming was so good that I was able to comfortably straight line it without worrying about catching an edge or hitting a patch of ice.  You could also lean into some turns and lay out some nice sprays because the snow was so chalky and dry.  It was just so good.  I couldn't think of a better way to end the trip.
I'm going to gather all of my pictures from this weekend and post a gallery here in a bit, so be on the lookout for that.  A big thanks to David Dekema and Erin Stolle (our bouncer at the concert Saturday!) for helping with this weekend.  It couldn't have gone any better.  I think everyone who attended is feeling pretty good this morning after a fantastic few days.
Mike posted a few closing comments about the Summit and you can read them by CLICKING HERE.
Alright, so I'll try and stop chatting about Snowshoe so much.  I know Mike and I have been talking about it for the last several days on here.  The truth is, every ski area in the region is killing it right now.  Conditions across the Southeast are some of the best we've seen in several years for early March.  Maybe I'm living in the moment, but I don't things have been this good this late in the season since the winter of 2009/2010, which was just an insane year for snow.  Late January and all of February was VERY good to us.  I don't have exact snowfall totals for that timespan, but suffice to say it was a pretty good amount for everyone and the cold didn't let any of it melt.
Here's a random tidbit…I saw something on Twitter yesterday that was pretty neat.  The NWS in Kansas City posted a graphic that showed that everything single state in the US, except Florida, has some snow on the ground.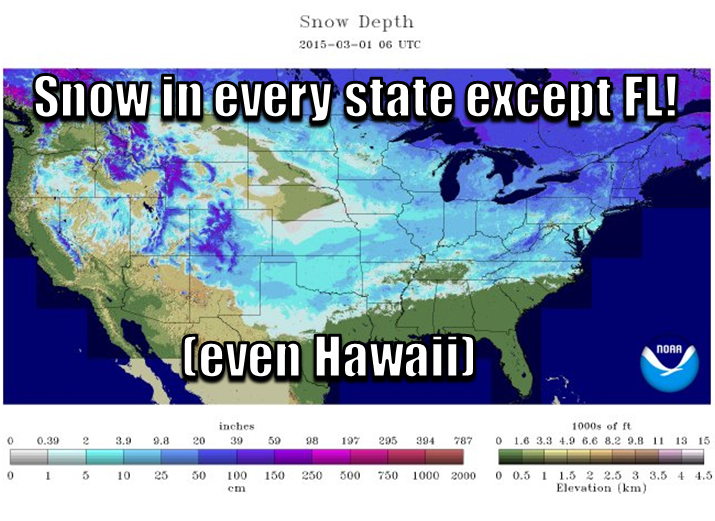 I was talking to a reader of the site last night at a restaurant here in Davidson, and he was telling me how he was up at Beech Mountain this past weekend.  He hadn't snowboarded in a few years due to an injury, but after going this weekend he was hooked again thanks to the fantastic conditions right now.  I think he was pleasantly surprised at how good things were so late in the season.  I'm sure all the visitors to any ski area in the Southeast were thinking the same thing after this weekend.
On Saturday, I mentioned how there were literally only a handful of runs in the region that weren't open.  I'm looking at the snow report page right now and here are the actual numbers.  Only 3 trails in North Carolina aren't open right now.  The Virginia resorts have every single trail open.  West Virginia is only down 3 trails.  Wisp Resort in Maryland is at 29 of 34 and Ober Gatlinburg in Tennessee is at 9 or 10.  All in all, that's only 12 trails out of 354.  Okay, it's a little more than a handful and was actually in the single digits on Saturday when I said it, but you get the picture.  For March 2nd, things are looking pretty good.  Joe Stevens reiterates this fact in his latest "Snow News is Good News" column.  You can read it at the link below.
https://www.skisoutheast.com/are-you-sure-its-march-one/
How Long Can It Last?
That is the question.  The ski areas actually rarely close due to a lack of snow.  The dropoff in skier traffic is usually the culprit.  Once it gets a little warmer off the mountain, people kind of forget about skiing and snowboarding and move onto other things.  We are into March now and warmer temperatures are inevitably going to happen.  Thankfully, really warm temperatures that spans several days doesn't look to be happening soon as the week ahead looks like a roller coaster.  The immediate forecast looks decent today, some freezing rain/wintry mix on Tuesday, and then rain and milder temperatures on Wednesday.  When is the last time it actually rained at the resorts?  Maybe I'm crazy, but it seems like it's been a while.
Luckily, another blast of colder air arrives Wednesday night and will bring some snow showers along with it for Thursday.  This should be a nice little reinforcing shot of cold temps and snow that should help fluff up the weekend conditions.  As of right now, the weekend is looking pretty good.
A Couple Notes
Here's a few final notables…
March Madness rates begin today at Sugar Mountain and Beech Mountain.  You'll be able to get discounted lift tickets during the week and weekends from now until each ski area closes.
Ober Gatlinburg is in the midst of a season pass sale.  From their site…"$249 $249 $249.  What is that?  That is our 2015-2016 Season pass sale!!! GET A 2105-2016 SEASON PASS SALE & USE IT FOR THE REST OF THIS YEAR!  March 6, 7, 8= $249; March 9-22=$279; Sept 7-November 15=$299; November 16+ =$349  (sold on-site only at Guest Services)
Enjoy your Monday!